STC Madrid Serves STC Amsterdam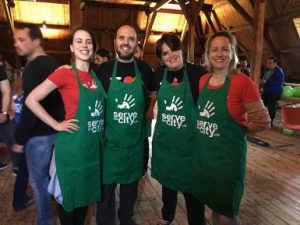 STC Madrid sent some volunteers to Amsterdam to help them with their 10th anniversary celebration last month.  We're hoping this great example of serving one another spreads throughout our cities, and more of our cities are inspired to visit each other and experience their global STC family!
STC Teams From Around the Globe Meet Online 
Over 40 Serve the City leaders and teams met online last month from Asia, Africa, Europe, and the Americas for our largest online meeting to date.  Progress on the international and local levels were reported, as we continue to work towards fulfilling the mutual priorities agreed upon in the Amsterdam Resolution from last fall's Forum.  Minutes from that meeting are available in the online library of the Lobby of the STC Office 365 "Skyscraper" for those who were not able to attend.
New Additions to the STC Family:
In addition to those reported last month we now have:
Just Begun: STC Roermond, the Netherlands
Starting this month: STC Catania, Italy
Congratulations!