The Help-Files: The Truth Is Here
Vol01:Iss03 – What is "The Tower" and Why Should I Move In? 
Whether you are new to Serve the City or have been around for a while you are probably wondering what The Tower is.  Let's start with a few things The Tower is not: it is not a sinister corporation ala "The Circle"; it is not the centerpiece of an Irwin Allen (may he rest in peace) disaster movie; in fact, it is not an actual building at all.  The Tower is Serve the City's virtual office complex with as many levels as we need and space for every city no matter how big or small.  The Tower is a "place" for your city team to meet, collaborate, share files find resources, and engage with other cities around the world. 
The Tower is built around Microsoft's Office365 environment and relies on Microsoft Teams as the primary user interface.  The Teams app is available as a free download for Windows, Mac, iOS, and Android operating systems so you can stay connected no matter what your platform of choice is.  All you need to get started is a domain name (like STCyourcityname.org) that has been linked to the STC International Office365 server.  Once we have your domain name linked we can begin creating email accounts for your team (like yourname@STCyourcityname.org) which will serve as your user name for Teams and Office365.  
So, you have your Office365 account and you've downloaded the Teams which means your team has moved into The Tower and you're ready to launch Teams and start unpacking boxes.  When you first enter The Tower through Teams you will see a screen like the one below.  Initially the only "floor" you have access to is The Lobby but we'll fix that soon so you can get settled in. The Lobby is a team and, in a moment, we will show you how to set up one for your city but first let's look at the general layout of Teams.  On the left is a task bar that lets you switch between some of the major elements within Teams (circled in red).  "Activity" is a running list of all the things happening in the teams and chats you are involved sorted from newest to oldest; "Chat" is where you will find all your personal conversations; "Teams" is where you will find a list of all the teams you are a member of; "Calls" is just like the 'call' area on your mobile phone; and "Files" provides quick access to the files you have uploaded/stored on Teams.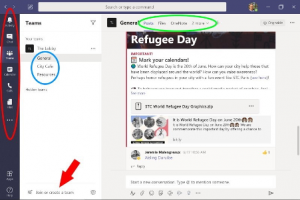 Circled in green at the top is are tabs that link to areas within a specific team like team chats and team files.  You'll learn more about working with tabs in a future article.  Under The Lobby, circled in blue, you will see three sub-headings.  These are called "channels" and can be used to create sub-teams or just help you organize your team's conversations and files.  Every team has a 'General' channel when it is created.  In The Lobby, this channel is used for movement-wide announcements and sharing of files. 'City Cafe' is a place for casual conversations between city leaders and teams over a cup of virtual coffee. 'Resources' is the current home for all sorts of resources that cities may find useful but look information on how that might change soon (maybe even elsewhere in this newsletter). 
But if you want to unpack all those boxes into your own "office" in The Tower you will need to create a new team for your city.  To get started, just click 'Join or create a team' (just see the great, big red arrow above) and select 'Create a team'.  You will also see some other teams you can join but ignore those for now.  Just choose 'Build a team from scratch' and follow the steps – it's pretty simple – and soon you will be a Teams pro!  
But why should you bother?  You could use Zoom, WhatsApp, email, and Google Docs to do the same thing (and many of you probably are using these tools).  But wouldn't it be nice to just open one app and have it all there, right at your fingertips? Plus, there are a lot of other apps you can integrate with Teams to customize your "office space" to meet your needs and that is not to mention that Teams is where you will find all the cool resources that the Global Operations Team is developing.  Future articles will go into detail about using the main functions of Teams and how you can add your own extra features. 
So, to sum up, The Tower is an easy and fun way to stay connected with your team. And did we mention that it's free? Once you move into the Tower, you will see that you've got a place to store your documents, consult with other team members, get inspired by other cities, and access to dozens of resources that can help you grow and mature Serve the City where you live. If you've already got questions about The Tower, domain names or other IT topics, just contact support@servethecity.net and let us know how we can help.