The Help-Files: The Truth Is Here
Vol02: Iss03 –
Graphic Design Made Easy
Whether it creating a flyer for an event or making an eye-catching graphic for a social media post, sometimes you want a little more than the paint program that came pre-installed on your computer or phone.  You want something with the power to make you look like a real graphic artist – you want Adobe Photoshop.  But you can't afford that and you even during the worst of the pandemic you didn't really have the time to actually learn how to use it.  Enter Canva!
Canva is an online graphic design platform that you can use to create social media graphics, presentations, posters, documents and other visual content.  The platform is free to use and offers paid subscriptions like Canva Pro and Canva for Enterprise for additional functionality if you really want to get creative.  Serve the City uses it to host our own templates like the ones we use each month for "world days."
To get started with Canva you will need to first set up your own free account at www.canva.com.  Once you've done that just head over to The Lobby in Teams and under the "More" tab in the General channel select "LRC – Leader Resource Site".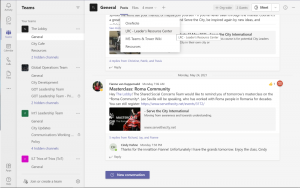 Once there, scroll on down until you see the Canva logo and "Canva – STC Graphics and Templates".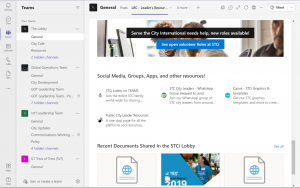 Click on the link and you'll be taken to a page with thumbnails of the current list of available STC templates.
Once on the Template page you can scroll through all the available templates until you find one you like.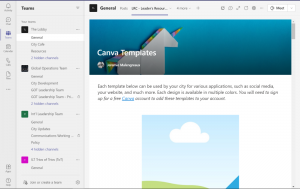 When you select one you will be redirected to a web page like the one shown below.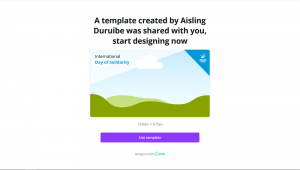 This will show the template you have chosen with some additional information like the basic image size.  Just click on the "Use Template" button and a copy of the template will be created in your personal Canva design studio where you can modify and add to the selected template.
The design studio itself is pretty intuitive in its layout and function.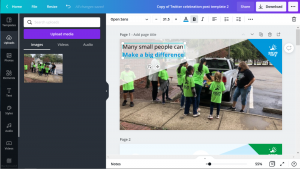 Here you can upload your own images to use with the template, highlight and modify existing text, or add new text and new graphic elements.  There is so much you can do with Canva, including adding audio tracks or video clips for a little extra "wow".  And Canva provides its own classroom environment where you can learn how to maximize graphics arts skills (www.canva.com/learn/).  And as you learn more about Canva and create some of you own designs we hope you will share them with the rest of the Serve the City family.
If you have a design you are ready to share (whether created in Canva or with some other platform) just send a note to support@servethecity.net with "New Template" in the subject line and someone will be in contact with you about hanging your artwork in our digital gallery.