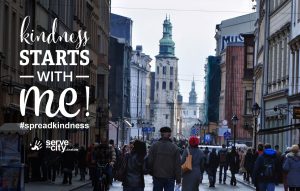 We are excited to reveal the theme for 2020 is "Kindness starts with me", at the most basic level kindness is the "why" behind everything we do. Over the next year our message will be that serving our cities starts with being friendly, generous, and considerate – kindness that starts with each person.
Our team in Kraków is excited to host you in our beautiful city, explore our complicated history, and spread kindness. More details to come, but you can look forward to exploring the medieval city center, visiting Schindler's factory museum, and more!
We invite you to Kraków, Poland: 22-25 October, 2020!