How do I start Serve the City in my city?
Anyone can start Serve the City in their city!

You can start big or small – Serve the City can fit you and your city. We have many resources, experiences, and stories to inspire you and your team. Don't worry, it's not hard! You can keep it simple and STC can grow as you gain experience and relationships within your city. Learn more below and contact us today!
Cross the line, Serve the City – our call to action.
Three simple steps to start…
Step 1: Get to know us

Join the next STC Introduction webinar or schedule a zoom meeting to learn more about our values, tensions, and mission, and get your questions answered.

Step 2: Serve Now!

Create a volunteer project based on the STC values and ideas. Call to action your friends, family, co-workers, neighbors, and anyone else you can gather up. Set a date, and go do it!

Step 3: Join the family!

If you like what you know so far, and you want to lead Serve the City in your city, sign up for the next Focus Interest course. This course will guide you and prepare you to become an official Serve the City leader and open the doors for many more opportunities!
Register to join the next INTRO webinar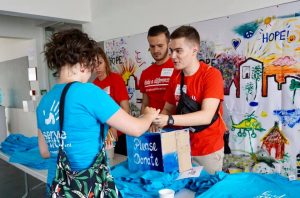 Register for the FOCUS Interest course (any time)
Focus: Interest
You can take the Focus Interest course any time. We also offer two cohorts each year, in the fall, and in late winter – check the events page for the next one or sign up on your own.
Resources we can provide you with
Serve the City has learned much since we began in Brussels in 2005. You do not have to recreate the wheel, we are here to help, and motivate your dreams! We have an incredible team to get you started and keep you running. If you don't see what you're looking for, just ask!