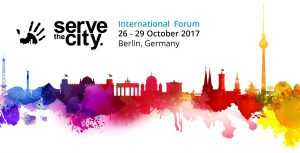 Invitations have gone out and registration is now available for the 2017 International Forum in Berlin on 26-29 October. The International Forum in Amsterdam last year was fun and inspiring – as well as an opportunity to make deeply meaningful connections with STC leaders from many different cities.  We are working hard to make this year's Forum even better!
NEW THIS YEAR!
We have an official Forum Webpage!  A page has been set up at servethecity.net/forum with all of the information you'll need to attend. This page will be updated regularly as the program and other details are finalized.
New City Training on Thursday!  Are you a new city, having just started or in the process of starting? Or are you still at the interest stage and want to know more?  We will be offering a New City Training on Thursday, 10:00-16:00, prior to the start of the general Forum.  If you are interested in attending, please indicate your interest on the registration and we will communicate the details to you separately.  Other than requiring an early arrival in Berlin and a few euros for lunch, there is no additional cost for this program.
Master Class Sunday Morning Program!  Our optional extended training on Sunday morning last year in Amsterdam was so well received that we have now made it an official part of the general Forum available to everyone.  Last year we heard from Peter Harris (Founder, A Rocha) on the topic of Fund-raising. Details TBA soon for this year's program, but please plan your departure for later on Sunday (program ends at 12:00) to be able to participate.
Register and join us 26-29 October in Berlin at the 2017 Serve the City International Forum – where many people doing small things together can make a big difference!