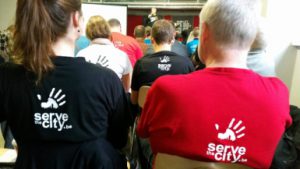 STC Berlin hosted this year's International Forum on 26-29 October, and it was our biggest Forum yet.  While many of the STC cities across the world meet regionally and nationally together, the IF each year is the premier gathering of people in our movement world-wide.  IF17 Berlin saw around 95 people gather from across the STCi movement, including many EU countries, Nepal, Mexico and USA. Those attending the IF are either actively involved in leading their STC volunteer-movement or interested/starting an expression of STC in their local city.
"This [IF] is like a family", said Greet (STC Maastricht).  The IF is where our movement connects relationally and talks shop. We listen to one another, learn, and encourage each other. Experts are invited to share on specific topics that build capacity across the STCi movement, like excellence in volunteer management.
With STCi becoming a formal legally constituted International Non-Governmental Organisation on 1 September, 2016, three new Affiliated Memberships were conferred during IF17. The national STC entities of Belgium, Ireland and Portugal have been a part of the movement from the early days in Brussels (2005). "This Affiliated Membership celebrates and reflects the reality and commitment in the hearts and minds for many years – now we are formally recognising their membership of STCi", said Alan McElwee, STC IRL Founder/Director and Chair of the Board of Directors with STCi. "STCi membership is inclusive and open to eligible entities as either Affiliated or Associate Memberships" commented Alan.
STC Dublin has been asked to host the IF18, which will be held on 18-21 October, 2018.  They have accepted, and commit to maintaining the high standard of excellence set by Berlin this year.  For some videos from this exciting weekend, filled with both professional substance and fun, see the links below:
Thu Welcome dinner
Fri plenary sessions and workshops
Sat plenary sessions and workshops