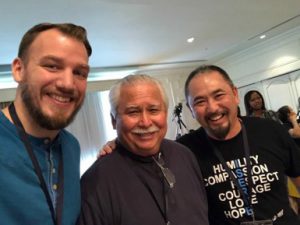 Jerry McCarty is an International Ambassador for Serve the City. He leads small teams of volunteers to cities in the Interested Life Stage to help them move to the Starting Stage.  This fall, Jerry and Scott Furushima traveled throughout Asia and South America representing STC in the countries of Japan, Indonesia, The Philippines, and Ecuador.
Many cities throughout Asia have been expressing interest and excitement in starting Serve the City.  The United Body of Christ Church in Quezon City, Philippines has been serving families and children in need for years through education, meals, and art.  Upon hearing the vision of STC to gather volunteers from every walk of life to serve throughout the city, they organized training meetings so volunteers from around the city can be mobilized to not just know people by their needs, but know them by name!
In Guayaquil, Ecuador, the team shared the heart and vision of Serve the City at the Transform World International Leadership Summit. They were invited to share how STC combats the challenge of urban poverty around the world by building a serving community—a community where people are not just being served, but invited to serve together towards a vision of city transformation!