On the 26th of June, Serve the City Amsterdam had its Big Volunteer Day.
This event included painting, gardening, haircuts, making pancakes for the homeless, and much more. The volunteers also distributed 3000 brownies to elderly homes in Amsterdam!
We reached out to Serve the City Amsterdam, to find out more about this special day. In her own words, Reshmita Jose, a volunteer at STC Amsterdam, shared three glimpses from the day as she interacted with volunteers and participated in various projects:
---
1)
Gerda, the caretaker of the old age home, was thrilled to meet the STC team and walked around with great enthusiasm offering us cookies, water and even some wire cables! The team at STC was hard at work building a beautiful insect hotel in the backyard.
I sat down on a wooden chair placed nearby and spoke to her at length about this place. She had some beautiful insights to share:
"We provide a cozy home to to about 140 residents who suffer from physical and mental ailments and are over the age of 60. At this stage in your life, it's all about having fun and spending quality time doing fun activities.  Playing 'Bingo!', bird spotting and watching movies are the most popular choices here. They probably know to play more than 96 different games. Yes, 96! It was my idea to build an insect hotel for them. They love observing bumble bees and other insects during the day and that's when I got this idea. It's an attempt to enhance their sense of taste, smell and sight. We all have a sense of mischief here and that is what makes us a fun community. A friend of mine once put peanut butter on some dried pine cones and attached it to her window to attract bees!" 
---
2)
Inés and Pepijn were flipping pancakes by the minute! They were crammed up in a tiny makeshift kitchen and masterfully poured the batter onto some hot pans, slid the spatula to flip them at the right time and achieved perfectly golden, round and fluffy pancakes each time.
What surprised me was how quickly they were making them and how even quicker the pancakes were being eaten by the people! They were simply devouring every bite and came back to the kitchen asking for more.
In between the flipping and serving, Inés took some time out to share her experience:
"I think we have collectively made about 70 pancakes so far. I love making them! Some are plain some, some with cheese and so on. It's something I've been doing for some time now and Pepijn seems to enjoy making them too. He joined us last time and came back this month too. The smile on people's faces when they eat our food makes it worthwhile."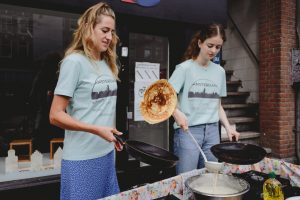 ---
3)
I walked up a narrow wooden staircase that led to a small room where Liesbeth was giving her friend a haircut. "Could you wait for 15 minutes? I'm almost done with his haircut", she said and smiled at me. I sat there on a tiny stool and looked around.
Liesbeth had a pair of scissors, some hairspray and a fine-toothed comb on her work table. She looked extremely focused on her work and nothing could distract her from giving her friend a great haircut. Once she was done, she cleared the space for me and we sat down for a little chat:
"I always wanted to work at a hospital and so I decided to do that. One day, I came home and felt that the grass in my garden needed a trim. I took a pair of scissors and starting cutting them! That's when I thought… how about becoming a hairdresser? (laughs) There was no reason why I could not do it… so I decided to go for it! I work for an association for the homeless. I have been homeless myself and I know what people go through. So I come here regularly to give people a haircut. It can really make a person look smart and presentable. I do it for free for my friends and family here. It makes me happy."