The Help-Files: The Truth Is Here
Vol02: Iss04 –
Problems Connecting to Your STC Email?

Due to the recent increases in password attacks, Microsoft has retired Basic Authentication in Exchange and has now implemented the OAuth 2.0 standard making use of multifactor authentication. Depending on how you access your email, you may or may not have had problems logging into your account.
The easiest and best solution is to use Microsoft Outlook to directly access your email. This method avoids 3rd party applications and also gives access to shared calendars and contacts. If you already have other Microsoft Office applications such as Word, Excel, and Powerpoint, then you may also have Outlook already installed. Note: Outlook is separate from the built-in Mail app for Windows, which is not recommended. Outlook Web is also accessible through your browser and requires no installation.
If you are having problems accessing your email and do not wish to use Outlook via Microsoft Office, please see the following steps:
Open the email client you use to access your STC email.
Locate your security settings and search for  an "Authentication Method" setting.
Change this setting to utilize "OAuth 2"
Log back into your email client, enter your password, and click "Accept" when prompted to authorize your client to connect to the Microsoft Exchange server.
If the authentication fails, try downloading your mail again.
If the above steps do not work and you are still unable to access your emails, remove the account from your email client and re-add it, enabling multifactor authentication if prompted.
Most 3rd party email clients support modern authenticatio (OAuth). Examples include (but are not necessarily limited to):
Mail app for macOS Mojave 10.14+ (generally, Macs from mid 2012 or newer can run at least macOS Mojave).
Mail app (built in) for iOS 11.3.1+ (generally, iPhones from 2013 (5s) or newer can run at least iOS 12).
Gmail app for Android.
Mozilla Thunderbird 78+ for all platforms.
Note that the native Android mail app does not support modern authentication.
For Android users, you must use the Outlook, Gmail, or another app to connect using modern authentication. The Outlook app is highly recommended.
The following example demonstrates this process using the built-in Mail app on iOS 15.6: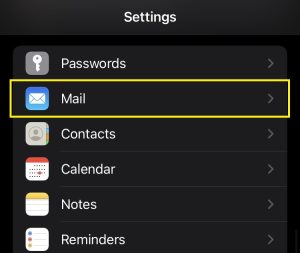 Locate the Mail app in Settings.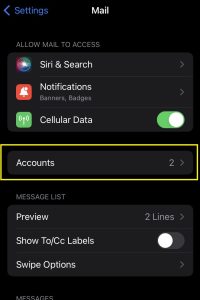 Open the Accounts section.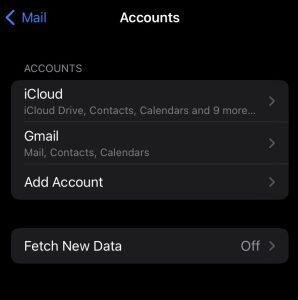 Locate the Exchange account used by your STC email. If it is not, found add a new account and select Microsoft Exchange.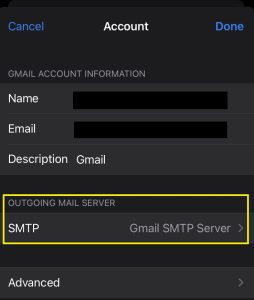 Select the Outgoing Mail Server tab.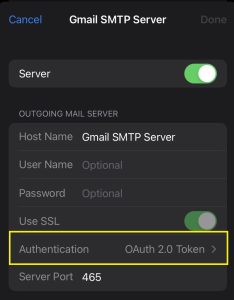 Verify the Authentication setting is set to OAuth 2.0.
If you continue to have problems accessing your email after following these instructions, contact us at support@servethecity.net using an email account you do have access to.
For more information on Microsoft's recent authentication changes, view this linked article published by Microsoft.