"Serve the Servers Dinner" Geneva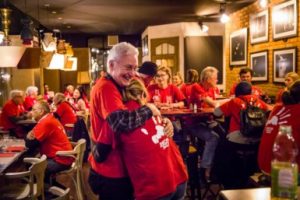 Recently 40 of Serve the City Geneva's enthusiastic volunteers became beneficiaries for the night, enjoying a delicious gourmet meal provided by Italian chef Walter el Nagar to thank them for their service. Of course, there was still room for some volunteering, as four newcomers offered to be serving staff for the evening, supported by two existing volunteers who stepped in at short notice to help. True to form, most of the attendees struggled to stop themselves from pitching in and found it strange to be waited on by fellow volunteers, but the event was more than just a night off – it was also a great opportunity to introduce the STCG committee and tell them more about their activities.
A highlight was hearing about an exciting new project: the ambitious and innovative "fifth day" initiative led by Walter along with his Société anonyme cuisiniers collective. The idea is to open a restaurant that will cater four days a week to the paying public, but on the fifth day, they will offer the same fine dining experience for free to those who don't usually have the chance to experience it – those who often rely on free soup kitchens for their meals. Bringing humanity and solidarity to the restaurant scene, the initiative launched with a pop-up event on 26 March, at which Serve the City Geneva's volunteers helped to serve Walter's healthy dishes, prepared with local, organic produce, to 100 of Geneva's needy. For more information about the project, see the SAC website.   STC Geneva is moving strongly to invest in our volunteers ! Thanks to the Berlin Initiative for the encouragement.