The Help-Files: The Truth Is Here
Vol01:Iss05 – Sharing Files In and Outside The Tower
This edition of The Help Files will explain how to store and share your STC files by using The Tower. It's the third part of a virtual Tower-tour that guides you through the Tower and helps you to use it to its full potential.
2020's global pandemic has brought remote collaboration to a new level. Online file sharing happened to be increasingly important and many organizations started using Teams in order to do so. Regarding this, we can call ourselves pioneers as the Tower was built many years ago. The Tower has made online collaboration way easier, as experienced by the many cities that have moved in over the years. Whether we're forced to work from home or not, sharing files in Teams is easy and useful for your STC (and it's free!). We'll clarify for you the options of The Tower how to use them smoothly.
The location of files
Files that are uploaded to The Tower, are accessible from three different places: Teams, SharePoint and – if they've been synced – in a OneDrive folder on your computer. SharePoint is the engine behind file sharing on Teams.
As explained in this previous article each team exists out of channels. Think of these channels as a place for your entire team to discuss a specific topic, like upcoming events, or project updates. Each channel has its own file folder where you can share files for that specific channel. To access that folder, go to the channel and select the Files tab above the conversation window (circled in green below). Every file that is stored in that section, will automatically be saved to the corresponding SharePoint folder.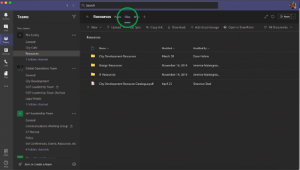 1 Screenshot of Teams Desktop App on a Macbook. The screen might look differently if you're a Windows user.
To open a document in Teams, just click on the document title. If you click on the three dots next to the document title and then move your mouse over the purple rectangle that says 'Open', it shows you the options Open in browser, Open in app and Edit in Teams.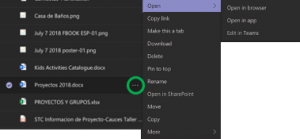 2 Different ways to open a file and make edits to it.
If you open a file in Teams or in SharePoint in your browser, you can work together on it in real time. In the right corner of the opened document, you see the thumbnails of the people that are working in the same document. You can follow their writings as they're typing. When you edit files in Teams or SharePoint, saving isn't something to worry about: as long as your device is connected to the internet, your document will automatically be saved in the cloud.
The button 'Share' in the right top corner of the screen will give you the option to invite people from outside the team to read or edit the document (this is only possible from the Office for the web or Office desktop app version). You'll then have the option to give read-only or edit rights to the person.
How to upload or create new files
There are two primary ways to upload existing files into your online library. Both methods start by going to the files folder for your channel and both methods, by default, upload copies of your files to the channel file folder.
1. Drag and drop – Using your mouse, drag the file from where it's currently located and drop it on the Teams window among the files.
2. Upload – Select Upload, then select the file (or files) you'd like to upload, and select Open (circled in yellow below).

3 Next to uploading files to Teams, you can also start a document from scratch, if you select New (circled in green)
Edit files offline
If you have the Office 365 software license on your computer, you can also choose the option Open in app. One of the apps (Microsoft Word, Excel or PowerPoint) that matches with the file structure will open the selected file on your computer. Now you can make edits both online and offline.
It's important to keep in mind that your computer needs to be connected to the internet to make your edits visible for the rest of your team. One way to see whether your document is syncing while you're saving, is to check the form of the save icon (see below). If the save icon appears with two white arrows overlaid on the floppy disk, this means that your saved changes will be saved to the cloud as soon as your computer is connected to an internet network. If it shows a 'normal' save icon, this means that you're not saving to SharePoint, but only in the hard disk in your computer.

4 The difference between the online (left) and offline (right) save icon
Sync SharePoint folders with your computer
To have access to all the files of a channels where ever you are at any time, it's useful to sync your SharePoint folders with your computer. We'll now explain how to set up syncing and have all your files in your personal OneDrive.
1. On the Microsoft 365 app launcher, select SharePoint or Teams, and then select the site with the files or folders you want to sync.
2. Select Documents or navigate to the subfolder you want to sync.
3. Select Sync. (You only need to do this once on a computer to set up syncing on that computer. After you set up syncing, the files sync automatically.)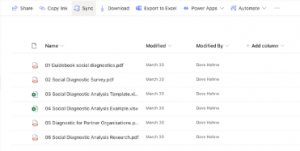 5 Screenshot of Sharepoint in a browser window. The sync icon is above the files in grey.
If your browser requests permission to use "Microsoft OneDrive," confirm that this is okay.
Important: If a screen appears stating "Which library do you want to sync?", your site hasn't been set up to sync with the OneDrive sync app. If you're the IT admin for your organization, see "Let users sync SharePoint files with the new OneDrive sync app". If you're not the IT admin, and your screens don't look like the ones in this article, see "Sync SharePoint files with the OneDrive sync app" (Groove.exe), or contact your IT department.
The files then sync to a folder on your PC that has the name of your organization (for example, %user profile%\Contoso). This folder is automatically added to the left pane in File Explorer. You can't select to sync to a different location.
4. To sync the files on another computer, go to that computer, and follow these steps again.
Note: if you used the previous OneDrive for work or school sync app, the folder structure for your synced folders might change when you begin syncing with the sync app. On computers with older versions of Windows where you used the previous OneDrive sync app, you may see an old "SharePoint" or "Teams" folder under Favorites in File Explorer. To remove the extra "SharePoint" or "Teams" folder, right-click and select Remove.
We hope that we helped you getting started with SharePoint and filesharing in The Tower. If you have any questions about the file sharing in the Tower or syncing SharePoint with your computer, please send an e-mail to support@servethecity.net and we'll be there to help you.
Source: https://support.microsoft.com/en-us/office/collaborate-on-files-in-microsoft-teams-9b200289-dbac-4823-85bd-628a5c7bb0ae