The Help-Files: The Truth Is Here
Vol01: Iss06 – Something Borrowed, Something New
Microsoft Teams is an ever-evolving, ever-changing tool for team communication and collaboration.  We've only touched on the basics of Teams so far in these articles and next month we'll begin to show you how to be a 'power user' and customize Teams to enhance your team's experience and performance.  But this month we want to take a step back and look at some recent changes to Teams that will make even the basic tools more useful for you and your team. 
A New Meeting Experience 
With more and more people working from home, creating a virtual meeting experience that can stand up to a 2-hour meeting is critical.  Teams has always supported unlimited meeting lengths with, for practical purposes, unlimited participants but you could only see a few people at a time and it was difficult to get at files or look for needed information from a chat stream.  Well, no more.  All you need to do is turn on the new experience in your Team Settings.  Here's how: 
Select your profile pic at the top of the Teams app, then 

Settings > General

. (

General

 should be what's showing when you open 

Settings

, so you probably won't have to select it.)

 
Select Turn on new meeting experience.

 
Restart Teams by doing the following:

 
Right-click or 

Cmd

-click the Teams icon in the Windows taskbar or Mac System Tray.

 
Select Quit.

 
Start Teams again like you normally would.

 
The first thing you will notice is that when in a call/meeting a separate window with all the video streams will pop up (see the image below).  This window will also have all the meeting control icons docked to the top of the window so that they are always easy to get to.  This also lets you easily access the rest of the Teams environment for retrieving/viewing files or searching chats for information needed in the meeting.  In addition, you get direct access to the meeting's "Meeting notes" tab in the main Teams window. 
One of the big reasons many people use Zoom over Teams for video meetings was that Teams only showed 4 video streams no matter how many people were on the call.  As you can see above, the standard gallery view shows 9 video streams but what if you have 10 or more participants?  Well, then just select "Large gallery" from the More Options pull down (the "…" icon in the meeting controls) and you can see 49 video streams, almost twice as many as Zoom, as shown in the screen-shot below.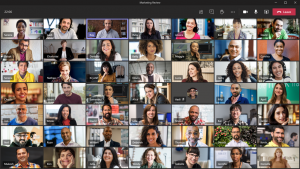 But wait, there is still one more way to see the smiling faces of your team by selecting "Together mode".  This mode is available when there are 5 or more participants and gives the impression your team is all together in one room.  New scenes include a number of auditoriums, conference rooms, and even a coffee shop are in the works. This mode is also getting updated with a new feature that uses machine learning to automatically scale and center people in their virtual seats no matter how far they're sitting from a webcam.  And if all these video streams are too much for you, you can always choose "Focus mode" from the More Options pull-down when content is being shared so you can pay closer attention to the content.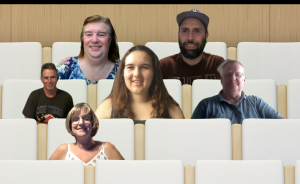 One of the great things about Post area in a Teams Channel is that it supports threaded conversations so that topic-based conversations can stay together in the chat area.  The problem was that the "new" conversation text entry block looked just like the text entry block in one-on-one chats so it was very easy to start a new conversation instead of replying in the threaded conversation.  Microsoft has solved that by adding a great big button at the bottom of the team post tab that says "New conversation" (see the image below).  There is no longer a text entry block available until you choose either "Reply" or "New conversation" so threaded conversations will stay threaded.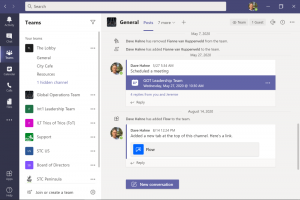 That wraps up the new features that deserve highlighting right now since they will have the biggest impact on your basic Teams experience.  Some things coming up that will be of interest to any 'power users' in the audience are the ability to customize the layout of your meetings, access to 3rd party apps during meetings, and announced for October 2020, a feature that will enhance your brainstorming sessions is coming: breakout rooms! Just like Zoom, this will allow a host to break the meeting into smaller groups then get everyone back in the main room.  So, like the weather, if Teams doesn't have a feature you need just wait a few days and it will change.