The Help-Files: The Truth Is Here
Vol01: Iss07 – Making a Team Your Own
So far in this series, we have been explaining how you can use the standard features in Teams.  These features which are part of every team that is created are, as you've seen, powerful tools to help your city plan and execute projects – especially in the new physically distanced world we find ourselves in.  But there is so much more you can do with Teams and it all starts with the "+" at the top of your team page.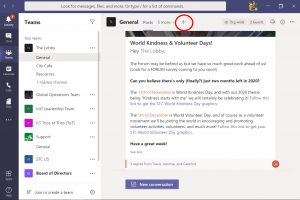 Here you can add a tab that provides quick links to files (these must be uploaded to the Files tab before they can be converted to a tab), a website, a Sharepoint folder, or an app like Planner (more than a to-do list but not quite a high-powered project management platform).  Detailed instructions are provided when a team member tries to add a custom tab to their channel or chat. When a custom tab is added to a channel, a Tab conversation is created that allows team members to have focused discussions about the content.  Teams apps are free to install and some may require purchasing service subscriptions to experience the app's full functionality and scope.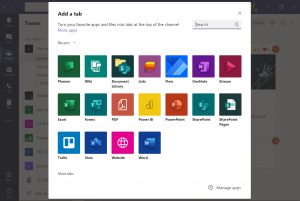 One other way to customize your teams is with Connectors.  Connectors keep your team current by delivering frequently used content and service updates directly into a channel. With connectors, your Microsoft Teams users can receive updates from popular services such as Trello, Wunderlist, GitHub, and Azure DevOps Services within the chat stream in their team.  Any member of a team can connect their team to popular cloud services with the connectors if the team permissions allow, and all team members are notified of activities from that service.
To add a connector to a channel, click the ellipses (…), on the right of a channel name, then click Connectors.  You can select from a variety of available connectors, and then click Add.  Fill in the required information of the selected connector and click Save. Each connector requires a diverse set of information to function properly, and some may require you to sign in to the service using the links provided on the connector configuration page.  Once set up, data provided by the connector is automatically posted to the channel (for example, if you added an RSS feed then messages from the feed would automatically post in the channel conversation).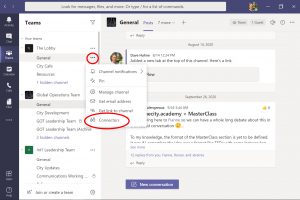 Well, that wraps up our series on Microsoft Teams (at least until all the new video chat features are in place) – we hope they were helpful.  Next month we would like to answer your questions in an end-of-year mailbag edition of The Help Files.  So if you have something you want to know just send your questions, suggestions, or comments to GOT@servethecity.net.